Bonjour!
Bonjour!
I'm Paul Prins.
A founder, manager, software engineer, writer, and artist.
An American in Paris.
---
Building Relationships
Building Technology
Building a Better Future
Highlights
Highlights
---
Broad Leadership Experience
He helped pioneer Freeskiing in the late 90s, nurtured MN Startups, empowered nonprofits, and supported French Startups along with CAC40 leadership in France. He has built and managed teams in a variety of contexts. Through mentorship and managenment he has helped talented individuals across industries.
People Centric
The stories of people and their needs drive his work. Helping others do good work, make a difference, and reach goals is an endlessly rewarding challenge. Individually and together, he wants each person to live a good life. Lives where their careers contribute to their complex & unique richness.
Software Engineering
Midwest Skier was founded by him in 1998. He built out a robust social & video platform and has written code ever since. Proficient in dozens of languages and modern approaches to development. He brings over 25 years of full stack experience and a love of the web.
Remote First
Building relationships and working online is full of unique challenges. Being remote is where he thrives. Since the late 90s, he has been cultivating and fostering community online. Both for work and passion projects.
Read his
Founder of
Get Rooted and Grow your Nonprofit.
Built for small to midsized nonprofit organizations, Fresh Vine is an integrated set of tools they rely on. You can think of it like a CRM with built-in tools for; donations, payments, event management, and email campaigns. There is a groups layer that gives a roster, events, and emails to each group. We also built an Event Kiosk that uses a touch interface that can print name tags on demand.
The platform is built upon a custom MVC with client by client version management. The monolith is a LAMP application with Electron used for the Event Kiosk. The frontend is mostly vanilla JS with some legacy jQuery. It uses AWS for its web infrastructure (EC2, S3, RDS, and more).
Donations Tracked
$130,000,000+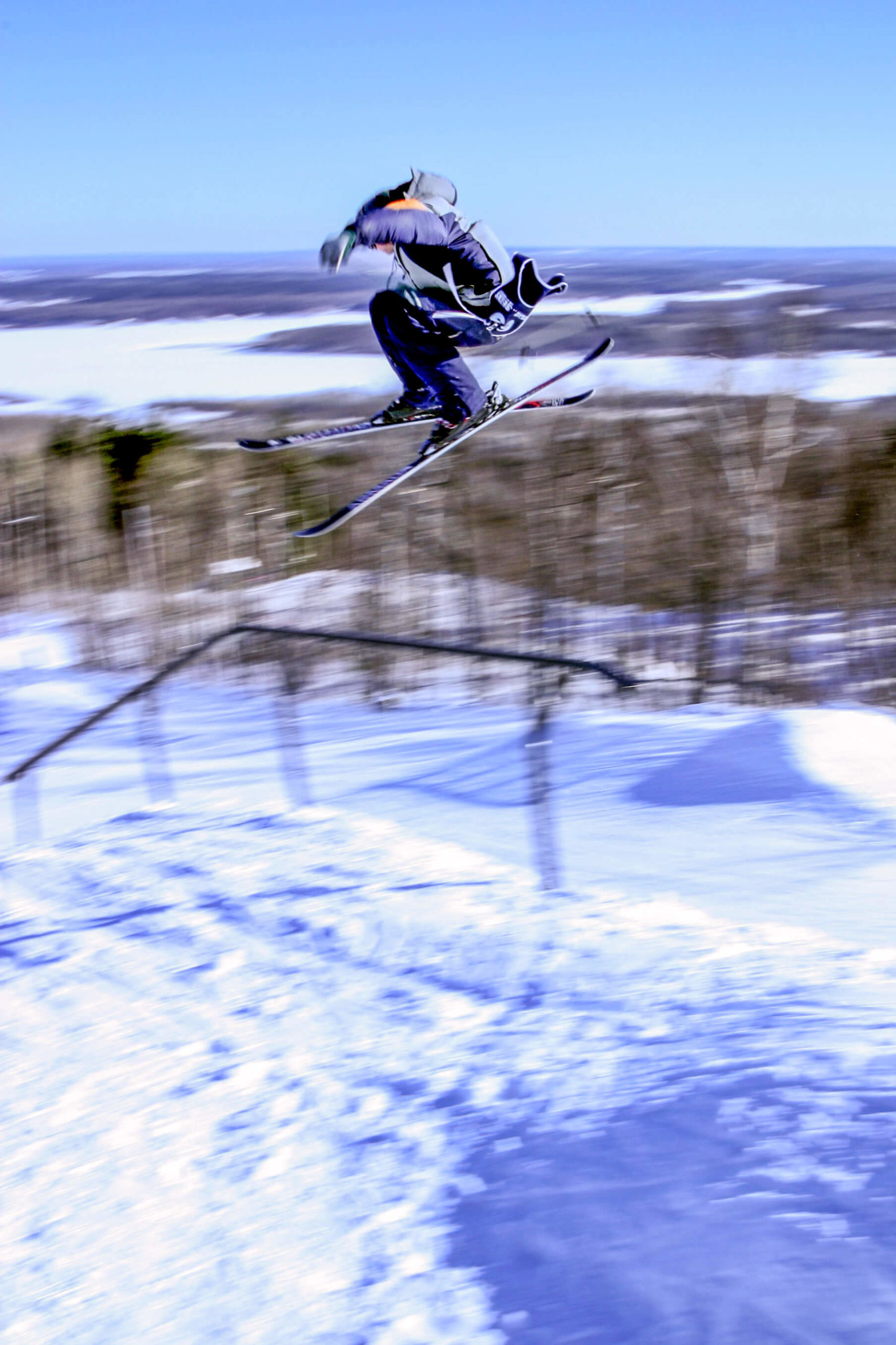 Founder of
Fueling the New School Skiing revolution in the Midwest
Total Staff & Volunteers
40+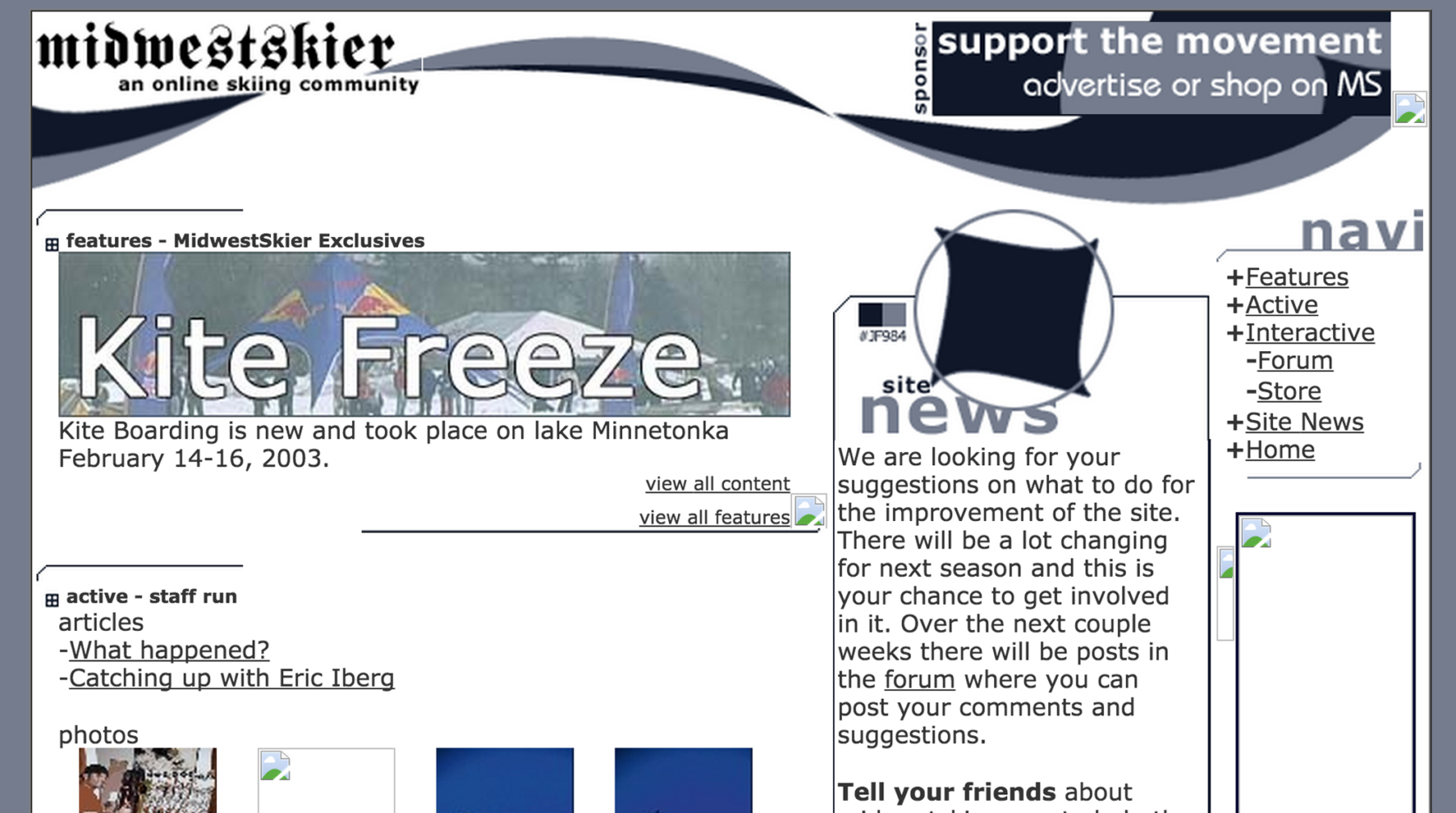 In the late 90s, Freestyle Skiing was being transformed alongside snowboarding. What started as a hobby site – Ski Storage – quickly evolved and grew into Midwest Skier and Cow Tipping Productions. Over the course of 8 years, we had built out a custom community-driven social platform. This included user generated stories, galleries, videos, and forum. At it's peak in the early 2000s, there were hundreds of active users for this niche sport in our fairly flat region. Our ski hills – with their hundreds of vertical feet – continue to churn out some of the world's best freeskiing athletes.
The web platform was built on a LAMP stack and run on a dedicated server (using an early version of FFmpeg for on server video transcoding). We released 2 films, and produced multiple regional, 3 national, and 2 internationally recognized events over 5 years. Midwest Skier also wrote for national and international publications, mentored photographers and cinematographers, and helped athletes pursue their freeskiing dreams. This was all possible with support from great sponsors like Red Bull, Smith Optics, Dakine, Line Skis, Freeskier Magazine, and more.
📷 Credit: Paul Prins – during the 2004 Midwest Skier Open Slopestyle Qualifier
⛷ Athlete: Lance Seeman with a lofty Disaster onto the flat down rail
🗻 Location: Spirit Mountain in Duluth, Minnesota
Reflections on moments and experiences
Journal
Journal
Reflections on moments and experiences
---